All the images were taken by the Creative Video company in the SV stand available to the customer.
Every year SV places the photographer in the person of Fabio Mazzaglia of the Creative Video company at the customer's disposal, who immortalises all our visitors who come to visit us at our Stand. With over 20 years of activity, Creativa Video has reached a consolidated experience in the audiovisual production sector that allows you to offer the best solution for your company's advertising every day.
Safety Expo Forum Fire Prevention 2019
Great satisfactions collected so far, however, you must never be able to satisfy yourself, "who stops is lost"!
SV security systems also this year is present at the 2019 Fire Prevention Forum with new Solutions and new Certifications for its product range. The event, designed to offer a vision on all the most current problems, is divided into the two different areas of fire prevention and workplace safety, each with its own types of meeting: conferences, seminars, training courses, practical exercises and many moments of spectacle and emotion. In the large exhibition area, sector companies present cutting-edge technological solutions and products.
It is worth mentioning to our readers the experience and skills acquired, documented and certified in 30 years of activity. SV Sistemi di Sicurezza is a company that has specialized in the production of fire alarm control panels with its own range of products manufactured in Italy in the "EXFIRE360" series, "entirely produced in Italy" Made in Italy "and sold all over the world.
At the Forum 2019 SV has launched a new product from its range, the new ELITE FIRE fire alarm control panel and the related Winguard software of graphic maps, there was no lack of appreciation on the usefulness and quality of the products.
The SV Stand breathed air of high technology and competence, from the Flame-Gas section including the analysis software, the wide range of SV control panels and the latest addition to the new multi-protocol graphical map software Winguard by Advancis.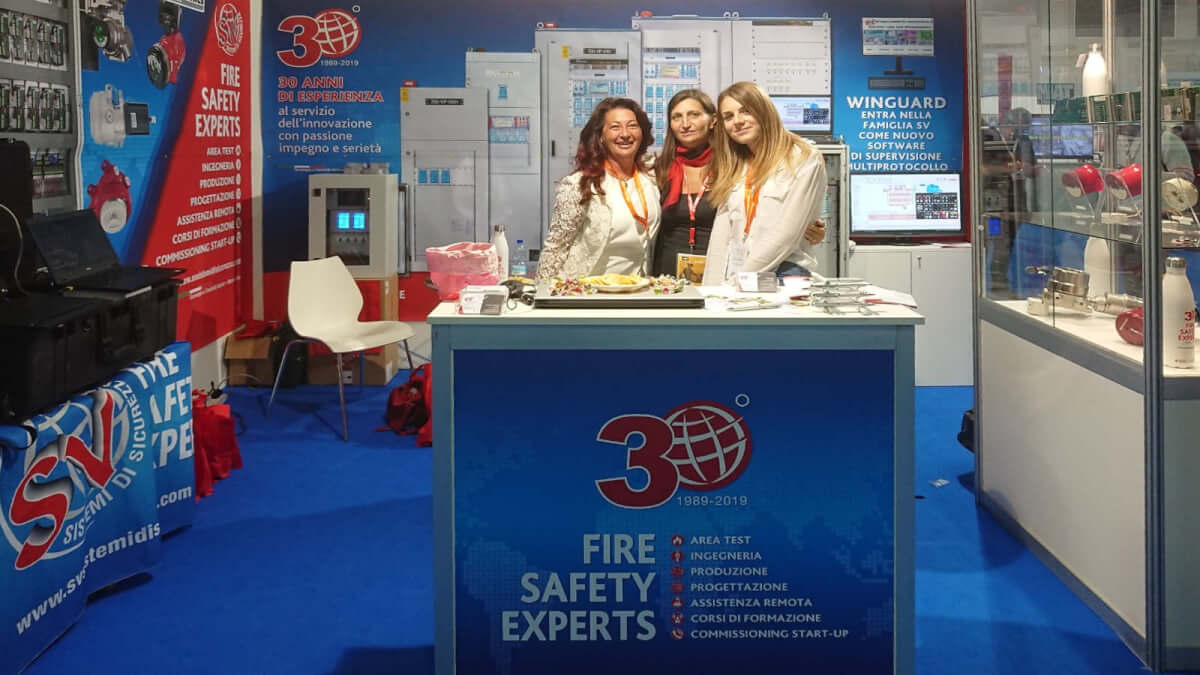 The launch of the ELITE FIRE control unit has aroused a lot of curiosity among the visitors of the 2019 forum, it can be defined that it is a programmable modular equipment, extremely versatile and capable of performing integrated firefighting functions, Fire alarm management, Gas alarm management, system alarm management Shutdown, serial communications management of various protocols to a work station. It can be composed according to the needs of the security system to be analyzed and is easily configurable through the "Protection" program.
ELITE FIRE can be connected t