TOUCH SCREEN: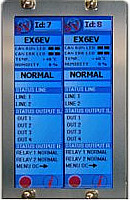 The Fire Control Panel uses the EXFIRE360 cards of new technological conception, comes with its 4.3 ″ LCD color Touch Screen, differentiates the various fire-fighting modes of the conditions of Alarm, Excluded, Anomaly, Test, Rest, with different colors , in accordance with the Certification obtained EN54_2, EN12094, EN54-4.
The 4.3 ″ Touch Screen LCD screen has the purpose of making information on the priorities of the fire event visual and immediate, with the aim of "saving human life".
A lot of up-to-date information is provided to the user on the absorption voltages of the electronic boards, of the individual 4-20mA channels; the operating temperature and humidity of each individual board, the serial number for self-recognition; all operating voltages 24Vdc, 5Vdc, 3.3Vdc as a real "Tester" tool; the resistive value of the single channel, the general absorption of the control panel in any condition, and the software monitoring of the hardware blocks of the boards.
About 10 different Hardware sections are monitored with control and verification of the internal SIL software, double drivers available to the board to communicate with the CANBUS protocol SIL2 certified, automatic exchange of redundant channels, and other useful information available directly in the manuals of the boards.
The operator can query the LCD Touch Screen card without difficulty, selecting the pages with a simple touch.